Nutley Public Library's Vinyl Record Collection
You can now borrow a portable turntable with your Nutley Public Library card. Turntables can be borrowed for one week at a time. Here is a link to our policies.
Click Here to see photos from our Everything Vinyl Record Program with Jon Lambert, Owner of the Princeton Record Exchange.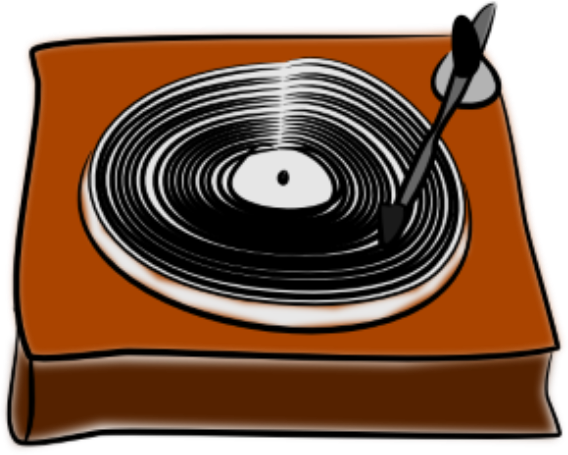 Vinyl record albums have spun their way back to the borrowing  shelves at the Nutley Public Library! Stop by to see why nothingmatches this recorded sound's listening experience.
Click Here for Vinyl Record Borrowing Policies
Here is a list of albums available to borrow.
Albums with a * were just added on August 29, 2018
Each album has a direct link to AllMusic for more details.
AC/DC – Back in Black
 ABBA – Gold
Adele – 25
Aerosmith – Toys in the Attic
Beach Boys – Pet Sounds 50th Anniversary
Beatles – Abbey Road
Beatles – Live at the Hollywood Bowl
Beatles – Sgt. Pepper's Lonely Hearts Club Band
Beatles – Sgt. Pepper's Lonely Hearts Club Band 
 Berry, Chuck – The Great Twenty-Eight
 Bon Jovi – New Jersey
Bowie, David – Aladdin Sane
Bowie, David – Blackstar
Brown,  James – 20 All Time Greatest Hits
Carpenters – Collected
Cash, Johhny – The Legend of Johnny Cash
Cline, Patsy – Greatest Hits
*Cohen, Leonard – Greatest Hits 
Coldplay – Kaleidoscope
Cole, Nat King – Unforgettable
Coltrane, John – A Love Supreme
Cream – Disraeli Gears
Creedence Clearwater Revival – Chronicle
Davis, Miles – Four and More
Davis, Miles – Kind of Blue
 Doors – L.A. Woman
Dylan, Bob – Essential Bob Dylan  
*Dylan, Bob – Greatest Hits 
Earth, Wind & Fire – The Best of, Vol. 1
*Franklin, Aretha – Aretha's Greatest Hits
Green, Al – Greatest Hits
Guns N' Roses – Appetite for Destruction
Jackson, Michael – Off the Wall
Jackson, Michael – Thriller – 1982
James, Etta – At Last!
 Joel, Billy – The Stranger
John, Elton – Greatest Hits
 John, Elton – Goodbye Yellow Brick Road
Jones, Norah – Come Away with Me
 Led Zeppelin – Led Zeppelin IV
 Marley, Bob – Legend
 Mars, Bruno – 24K Magic
*Meat Loaf – Bat Out of Hell
Metallica – Hardwired to Self Destruct (Record Store Day Red Vinyl Edition)
Miller, Steve – Greatest Hits 1974-1978
Mingus, Charles – Mingus Ah Um
Nirvana – MTV Unplugged in New York
*Pearl Jam – Ten 
 Petty, Tom – Hard Promises
 Pink Floyd – Dark Side of the Moon
 Pink Floyd – The Wall 
*Pink Floyd – Wish You Were Here  
 Presley, Elvis – The Sun Masters (From A Boy From  Tupelo) 
*Pulp Fiction – Music from the Motion Picture   
*Queen – Greatest Hits   
*Ramones – Ramones 
Rollins, Sonny – Tenor Madness
Rolling Stones – Let it Bleed – 1969
Saturday Night Fever – Original Motion Picture Soundtrack
 Sheeran, Ed – Divide
*Simon and Garfunkel – Simon and Garfunkel's Greatest Hits 
Sinatra, Frank – Swing Easy!
Sinatra, Frank – In the Wee Small Hours
Springsteen, Bruce – Born to Run – 1975
Springsteen, Bruce – Chapter and Verse – 2016
Star Wars – The Force Awakens Picture Disc – 2016
 Swift, Taylor – 1989
U2 – Joshua Tree 1987
Van Halen – 1984
Velvet Underground & Nico
White, Jack – Lazaretto – 2014
Who – The Who Hits 50! – 2015